The Gail Bell Memorial Fund
The Gail Bell Memorial Fund has been created to honor and remember Gail's encouragement and support of data managers pursuing cardiac and thoracic surgery quality improvement.  The fund will recognize and partially sponsor one MSTCVS Data Manager per year wishing to attend the STS Advances in Quality & Outcomes (AQO) Meeting and submit an abstract for a potential poster presentation.  The winner will be selected at the MSTCVS Annual Summer Conference.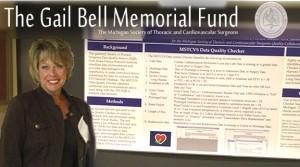 Click to donate to The Gail Bell Memorial Fund online
To donate by check, please mail to:  
Office of University Development
3003 S. State St., Suite 8000
Ann Arbor, MI 48109
Make check out to the Regents of the University of Michigan
Please put Fund #330073 in the memo.
Fund Help Line: 888.518.7888
Donations are tax deductible.
---
---
Applying for The Gail Bell Memorial Fund
Submit an Application to the MSTCVS
An abstract must be accepted by the STS/AQO to receive these funds. Additional application information will be available in late June.
Submit an Abstract to STS/AQO
Coming in April 2018 – Information for Data Managers wishing to submit an abstract to The Society of Thoracic Surgeons 2018 Advances in Quality & Outcomes (AQO): A Data Managers Meeting.
---
Dear friends,
It is with deep personal sorrow that I inform you that Gail passed away April 28, 2017 after an eight-month struggle with cancer.
Gail and I spoke often, and she always asked about the collaborative and told me how so many of you have reached out to her with words of comfort and encouragement.  Each and every card, text and voice mail message was deeply appreciated.  Her husband Tom and sons Zachary and Cameron also express their gratitude to the MSTCVS Board for their months of support.
The MSTCVS Quality Collaborative was an important part of Gail's life and she worked very hard to help it succeed.  We have lost not only a colleague but a dear friend.   We will all miss Gail terribly and take comfort in knowing that today, she is pain-free.
In lieu of flowers, memorial donations may be made to the American Cancer Society.
Please email us if you would like her home address.
Regards,
The MSTCVS Quality Collaborative
---
of Davisburg, passed away on April 28, 2017 at the age of 53. Beloved wife of Thomas Bell for 22 years. Loving mother of Zachary and Cameron Bell. Dear daughter of Maureen (the late Ken) Frenger and sister of Ken (Cherry), Greg (Beryl), and Kelly (Bob). She is also survived by many loving nieces and nephews. Gail was a registered nurse for 31 years, proudly spending the last 11 years at University of Michigan Hospital.
---