Michigan TAVR

In 2015, the Michigan Society of Thoracic and Cardiovascular Surgeons Quality Collaborative (MSTCVS) teamed up with BCBSM Cardiovascular Consortium (BMC2) to form Michigan TAVR. This joint quality improvement initiative brings surgeons, cardiologists, and other members of TAVR teams together to assess outcomes, identify potential opportunities for quality improvement, and share best practices for this new and rapidly expanding procedure. There are currently 26 TAVR programs in Michigan and the MSTCVS now houses over 8,000 TAVR procedures.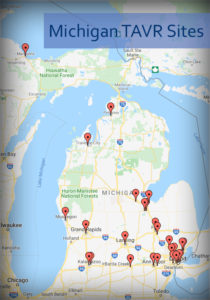 Transcatheter aortic valve replacement, also known as TAVR, is an alternative to surgical aortic valve replacement (SAVR) for select patients with aortic valve disease who are at intermediate or high risk or are not candidates for traditional open heart surgery.  TAVR is a less invasive procedure that allows a new valve to be inserted within the native, diseased aortic valve. Once the new valve is placed, it pushes the old valve leaflets out of the way and the tissue in the replacement valve takes over the job of regulating blood flow. Although relatively new, TAVR can be an effective option to improve quality of life in patients who otherwise have limited choices for repair of their aortic valve.
To ensure data quality, a sample of all procedural records submitted to the ACC/STS TVT Registry by participating sites are reviewed by BMC2 and MSTCVS auditors during site visits. Site visits focus on ensuring TVT definitions are understood, all data is being thoroughly and accurately abstracted, and case logs are reviewed to ensure 100% case capture. Michigan TAVR also promotes data accuracy through data abstractor training sessions, conference calls, and electronic FAQ submission.
For more information on the Michiagn TAVR program, michigantavr.org.