The Bell-Latham Memorial Fund
The Gail Bell Memorial Fund was created to honor and remember Gail's encouragement and support of data managers pursuing cardiac and thoracic surgery quality improvement.  It has been renamed The Bell-Latham Memorial Fund to include Dorothy Latham who passed away on April 12, 2019.  Dorothy was also an integral member of the MSTCVS Quality Collaborative community,  and a strong advocate for on-going Data Manager training and education.
The fund will recognize and partially sponsor one MSTCVS Data Manager per year wishing to attend the STS Advances in Quality & Outcomes (AQO) Meeting and submits an abstract for a potential poster presentation that is selected by the STS. The winner will be selected at the MSTCVS Annual Summer Meeting.
Click to donate to The Bell-Latham Memorial Fund online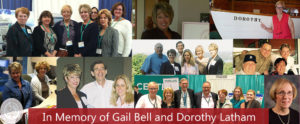 To donate by check, please mail to:  
Office of University Development
3003 S. State St., Suite 8000
Ann Arbor, MI 48109
Make check out to the Regents of the University of Michigan
Please put Fund #330073 in the memo.
Fund Help Line: 888.518.7888
Donations are tax deductible.
---
Applying for The Memorial Fund
Submit an Application to the MSTCVS QC Coordinating Center
Your accepted AQO abstract must be submitted to Barb Benedetti at the MSTCVS QC Coordinating Center in July 5, 2023.
The winner will be announced at the MSTCVS Summer Meeting. The fund is open to all MSTCVS Quality Collaborative data managers.  Please contact the coordinating center if you need help with an abstract idea or submitting to the STS/AQO.
Download an application form to apply for the Fund.
---
Detail Coming Soon
The 2023 Advances in Quality & Outcomes (AQO): A Data Managers Meeting will feature sessions for all four components of the STS National Database. Surgeon leaders and data managers will gather to share valuable research and important clinical findings with the goal of improving data collection and patient outcomes.
Submit an Abstract to AQO
Details coming soon. Accepted submissions will be presented as e-posters, while a small number also may be selected for oral presentation. Submitted abstracts must use STS National Database Core Fields and Participating Sites Custom Fields to produce results. 
---